Sierra Wireless, Qeuctel and Cradlepoint LTE Modems
Full lineup of LTE modems to choose from. LTEFIX even offers a firmware flashing service so you do not have to mess with doing a firmware update.
---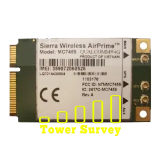 Sierra Wireless MC7455 is the latest CAT6 modem in the Sierra Wireless AirPrime series. It supports the latest LTE, LTE Advanced, 4G and 3G networks in North America, Europe, Asia and will allow a maximum down-link speed of 300 Mbps and a maximum up-link speed of 50 Mbps. As a result of it being optimized for low power consumption, the MC7455 is ideal for today's custom LTE routers, PC's, laptops, mobile computing, networking, and industrial IoT applications.
The MC7455 is one of our best sellers for use in our WE|WG series of 4G LTE routers.
The CAT6 modem supports 3G and 4G global networks, including LTE Advanced, with automatic fallback to 3G networks.
GNSS tracking lets you locate, monitor, and deploy location-based applications and services with module variants supporting GPS, GLONASS, Beidou, and Galileo satellite system.
---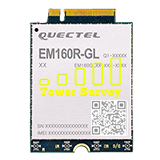 Quectel EM160R-GL is an LTE Advanced Category 16 module. Adopting the 3GPP Release 14 technology, it delivers speed of 1.0 Gbps downlink and 150 Mbps uplink peak data rates, and is designed in M.2 form factor.
EM160R-GL is designed for global market and nearly covers all the mainstream carriers worldwide.
EM160R-GL supports Qualcomm® IZat™ location technology Gen8C Lite (GPS, GLONASS, BeiDou and Galileo). The integrated GNSS greatly simplifies product design, and provides quicker, more accurate and more dependable positioning capability.
A rich set of Internet protocols, industry-standard interfaces and abundant functionalities (PCIe interface/USB drivers for Windows, Linux, Android/eCall) extend the applicability of the module to a wide range of applications such as industrial router, home gateway, STB, industrial laptop, consumer laptop, industrial PDA, rugged tablet PC, video surveillance and digital signage, etc.
---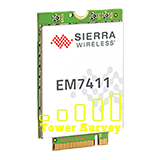 The Sierra Wireless AirPrime® EM7411 Module is an M.2 module that provides LTE, LTE-Advanced, UMTS, and GNSS connectivity for routers, notebook, Ultrabook, tablet computers, and M2M applications over several radio frequency bands. The EM7411 supports LTE bands including LTE-LAA, CBRS, Bands 66/71 and FirstNet™ Band 14, enabling secure and reliable public safety communications.
This LTE-Advanced Cat-7 embedded module delivers up to 300Mbps peak downlink speed and 150Mbps peak uplink speed and automatic fallbacks to 3G networks. It has integrated GNSS receiver (GPS, GLONASS, Beidou, and Galileo satellite systems supported).
The AirPrime® EM7411 embedded module is ideal for public safety, industrial M2M and mobile computing solutions, delivering high speed connectivity while supporting 24 worldwide LTE bands, including LTE-LAA and CBRS. The modem supports LTE bands targeted for global deployment with approvals from multiple NAM, EMEA, and APAC carriers.
Based on the PCI Express M.2 standard with USB 2.0 and USB 3.0 interfaces, the EM7411 module offers an easy upgrade path to new network technologies and global access to LTE-Advanced high speed cellular networks.
---
All About:
LTE Modems